Topics
When you are researching the purchase of protective armor, are you taking into consideration what functions you will be performing and what freedom of movement you will require when wearing it?
For instance, will you be actively shooting and transitioning your weapon? Are you going to be shooting from a prone position primarily? Is cover more important to you than maneuverability?
Hard armor is usually referred to as "plates", these plates come in different types of cuts: Full Cut, Shooters Cut, Swimmers Cut and Small Arms Protective Insert (SAPI). Unfortunately, considerations for which cut is needed is something that is often not thought about or not learned until it is too late.
The cut of hard plates will accommodate your movement at the shoulders, and is typically referred to as "shooters cut" or "modified shooters cut".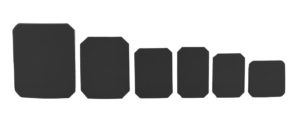 Full Cut: A square or a rectangle – often used as a back plate, side protection, or inserted into a backpack or other case.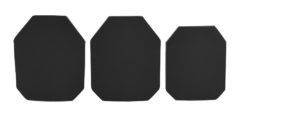 Shooters Cut: The most common cut. It is rectangle with top corners cut/angled to allow better arm movement and weapon shouldering, typically worn in the front of carriers/vests.
Swimmers Cut:  A more extreme clip/cut that extends further down the side of the plate rather than a 45* cut off the corner, which allows for most arm and shoulder movement. This is for highly active operators and disaster relief teams, this type of plate, however, may offer less coverage than Shooters Cut.
SAPI (Small Arms Protective Insert): SAPI cut plates basically have a 45* or close symmetrical clip and are radius rounded corners. SAPI cut offered by HighCom will be to the mil-spec size and cut but may vary from the true terminology of SAPI protection as we offer all of our various levels and models in many cuts and shapes.
HighCom offers a full line of military and law enforcement grade Level IIIA, Special Threat, Level III, and Level IV plates. Many of our plates are NIJ 1001.06 certified/compliant and our design, development, manufacturing, and testing facilities are ISO 9001:2015 and BA 9000:2016 certified. In addition to our internal material research and ballistic testing laboratory, we partner with the world's most qualified NVLAP accredited ballistic and testing centers including NTS Chesapeake and Oregon Ballistic Laboratories.  HighCom's hard armor plates sizes range from 5×7 to SAPI XL in size as well as flat, single curve, and multi-curve options.
Engineered to protect! Highcom is one of the most tested body armor companies in existence.
Want to learn more?
---