Topics
Below is a product review by Fifty Shades of FDE
Helmets are an integral part of Personal Protection Equipment or PPE for those in Law Enforcement and Military deployment. They protect one of the most important parts of your body, your head, and more importantly your command center or brain.
If you ask anyone who wears or has worn a helmet in the military or in law enforcement, they'll tell you that they absolutely hated them. You can't blame them at all. If you had to wear an issued helmet weighing close to or over four pounds with a terribly uncomfortable suspension system for hours at a time, you'd have a great dislike for them too.
Thankfully technology has advanced drastically when it comes to ballistic helmets. There are many armor manufacturers in the industry and the helmet market is one of the fastest-growing product lines. Not all of them are trustworthy when it comes to ballistic protection. There are cheap helmets that are available that do not disclose ballistic test results or conceal what materials are used.
Highcom Armor products are made using state-of-the-art materials from Honeywell™, Dupont™, and DSM™. Materials combined with technology and quality processes that are on the cutting edge of engineering capabilities focused on reducing weight while increasing protection and sustainability downrange. HighCom goes above typical industry standards and tests to many special threats and Military standards for frag and impact resistance to ensure their standard solutions up through their advanced ultra-lightweight solutions meet the needs and ergonomics of end-users throughout the world. That is one of the most important factors for me when deciding on which company I go with for a ballistic helmet. Backface deformation is very critical when it comes to helmets. There's no point in worrying about stopping the ballistic threat if the blunt force trauma will be fatal from poor backface deformation performance. Highcom Armor products meet and exceed current NIJ standards. I am confident in the quality of the product they manufacture.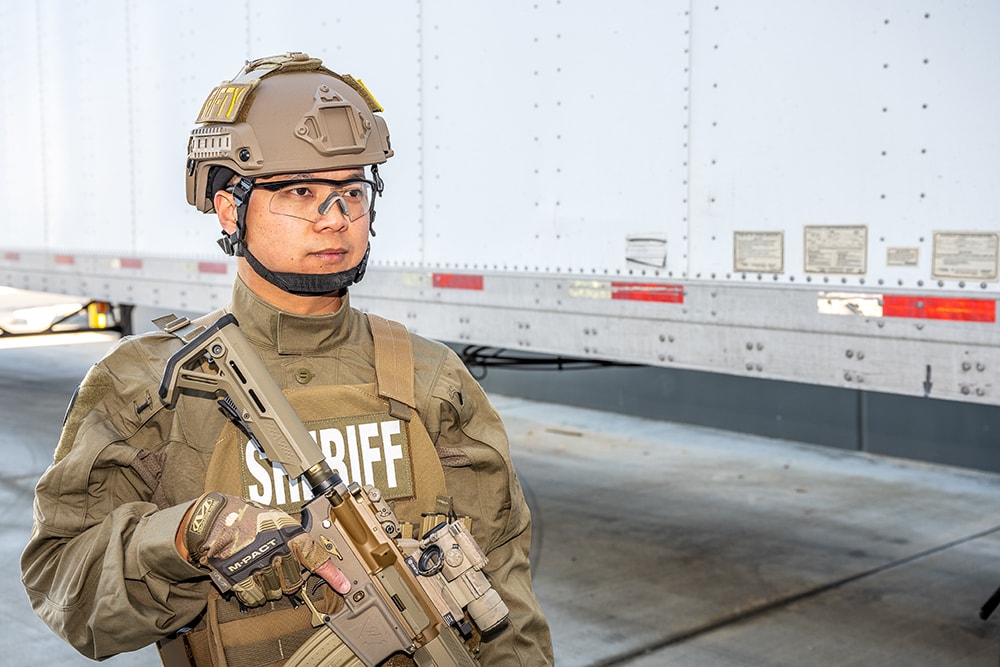 Highcom Armor Striker Helmets in the High Cut models are versatile helmets that work well with various rail mounts, shroud mounts, protective face shields, and various components for suspension and padding systems available today while giving the operator a wide range of motion. If you want the lightest possible helmet, the Striker ULACHHC "Ultra Lightweight Advanced Combat Helmet High Cut" is an excellent option. It is one of the lightest helmets that I've had experience with and I have had quite a lot over the years. This is the lightest helmet of all the ones I own.
Here is the full description from Highcom Armor: 
Protection: Level IIIA including frag protection
NIJ Standard 0106.01 TESTED: This product has
been independently tested by an NVLAP accredited
NIJ approved laboratory to meet or exceed ballistic
resistance as specified under NIJ Standard 0106.01
MIL Std 662f: This product has been independently tested by an NVLAP accredited NIJ approved laboratory
against FRAG resistance as specified under MIL-STD 662F
Materials: UHMWPE Spectra® fibers and thermoset resin shell construction
Head Protection: Front, back, crown, and top of the head
Weight Tolerance: +/- .15lbs / .068kg
Adjustable Harness: Multiple harness options available
Padding: D3O TRUST 7 Pad helmet system
Sizing: Circumference is measured around the head, similar to hat sizing. All sizes are measured in inches. If a measurement falls on a dividing line between sizes, select the larger of the two sizes to ensure maximum ballistic protection.
Warranty: 5 years on all ballistic material excluding exterior cover, 1 year on exterior cover material and workmanship
I ordered the Striker ULACHHC in Medium. My head size or hat size measures in about give or take 7 1/4 inches. It is a perfect fit for me. The D30 Trust pad system is very comfortable and helps with blunt force trauma from ballistic impacts as well as impacts from bumps and other things that happen in the field. I also added the accessory rails, velcro kit, and night vision shroud, which I highly recommend if you want to maximize the effectiveness and versatility of the helmet platform. It does add a few ounces but the benefits outweigh that added weight. That is why I choose to go with the ULACHHC. The shell weight is the lightest that Highcom Armor offers and so you're starting low, knowing that the strap harness and accessories will add to the overall weight of the helmet system.
It took only a few weeks from the time I made the order to the time I received the ULACHHC, not months and months that is sometimes the norm for other companies. Lead-time is another factor, your ballistic helmet does you no good if it's not on your head when you need it and Highcom Armor does a great job with customer service notifications via email and by phone, throughout the process, so you're never left guessing what is going on with your order. They simply deliver and do so in a timely manner.
When I picked up the package from FedEx, I was amazed at how light the box was. It didn't feel like it had a helmet inside, let alone a ballistic helmet. After opening it and unraveling the bubble wrap, I could immediately feel how light it was in comparison to every helmet that I have had before it. The coyote tan finish is clean and non-reflective. The shroud and rails were close to matching the base color to give the overall system uniformity. The velcro is a darker tan color but that helps break up the pattern of the helmet and adds the ability to attach patches such as name, unit, blood type, or various other accessories.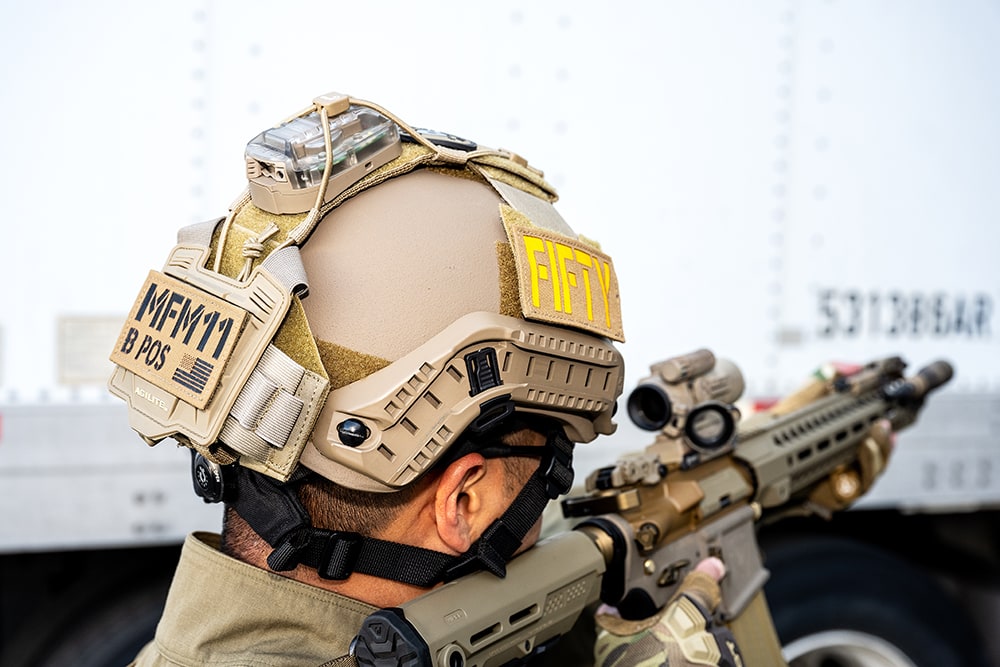 The overall craftsmanship of the helmet is excellent. Inside towards the rear of the helmet is a sticker indicating the NIJ Level IIIA rating, manufacture date, serial, and lot number with the model name. Everything from the exterior to the interior is clean and solid with all the accessories on tight and secure.
Wearing the helmet is a much more pleasant experience than I am used to. Having it so light doesn't give you the feeling that you just put on an enormous amount of weight that you immediately get when putting on an issued helmet. That's a great start because when you need to add on more equipment that are mission dependent, the weight will get up there. If you're not in need of extra equipment, wearing the Striker ULACHHC for hours at a time is no sweat. You are more likely to wear something that is comfortable than not. Having the light shell weight and excellent pad with a suspension system makes it easier to deal with since you already have to wear it.
Having the High Cut model has a lot to do with the weight reduction as well as maneuverability and compatibility with various headsets and hearing protection devices. If you're not wearing a headset, your hearing will not be affected by being covered. The obvious drawback is less ballistic coverage around your ears. Everything is always a give and take with armor. Mobility plays a role in survivability alongside with ballistic protection. If you're less mobile or maneuverable, the chances of getting hit are higher. Having maneuverability in a helmet allows you to move your head more efficiently to perform important tasks, such as scanning for threats and getting in the right position to acquire your sights on a rifle to engage the threats. Having the high cut option doesn't get in the way of obtaining a good cheek weld on the stock of a rifle or shotgun, something that could be problematic with a bulkier helmet.
The Highcom ULACHHC is an excellent helmet in every way I could think of. The only issue I can see that most people would run into is the price. The ULACHHC will run you over a grand and with the accessories which I highly recommend will add to that cost. This helmet is for those who need the best protection at the lightest weight possible because they will be wearing it for hours at a time. Current Deployments of this solution include the U.S. Military SOF units, U.S. Law Enforcement Special Response Teams, and a handful of Elite Fire Rescue units throughout the country.
If your budget is a little light and you are looking for great protection in a lightweight platform that meets current Mil-Std and is more commonly deployed with Military and law enforcement, I would suggest the Highcom ACHHC. That goes for a few hundred dollars less than the ULACHHC. If you require the best and lightest ballistic protection for your head, the Highcom Striker ULACHHC is a great helmet that you can be confident in its ability to protect you when you go 10-8.
Want to learn more? 
For more information about HighCom Armor and our products please contact us at [email protected] or call 614.500.3065.
---